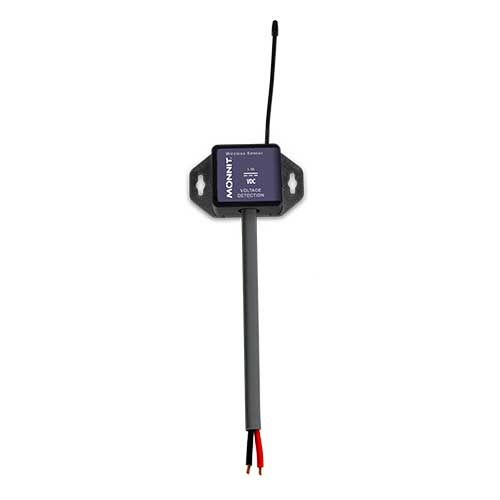 MONNIT WIRELESS VOLTAGE DETECTION - 200 VDC - COMMERCIAL COIN CELL POWERED
Add to Cart Successfully! CHECK OUT to view cart, manage quantity and pay.
Product Description
Description
The Monnit Voltage Detector – 200 VDC detects the presence or absence of electricity. It is intended for use on battery or other DC sources, up to 200 Volts. Not intended for use with AC Voltages. It is perfect for batteries, adapters, solar equipment, vehicles or machinery, and any other electrical appliance monitoring. The sensor triggers on voltage presence to voltage Absence and vice versa. The data is displayed as "Voltage Detected" or "No Voltage".
Features
Interfaces with other devices or power lines up to 200 volts DC.
Max sensor input voltage up to 200 volts DC.
* Actual range may vary depending on environment.
** Battery life is determined by sensor reporting frequency and other variables.
In the Box
Wireless Sensor
CR2032 – Coin Cell Battery
Mounting Hardware
Product Specifications
Documentation
Applications