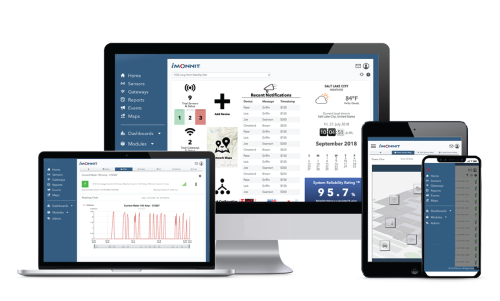 IMONNIT PREMIERE - UP TO 6 SENSORS (SOFTWARE)
Add to Cart Successfully! CHECK OUT to view cart, manage quantity and pay.
Product Description
Description
Looking for more features?
12 month subscription to iMonnit Premiere monitoring service up to 6 sensors for your wireless sensor network.
Upgrade your account to iMonnit Premiere and receive the following additional advanced features for a minimal annual cost:
Unlimited user accounts for system configuration, monitoring and notifications.
Sensor heartbeats (check-ins) down to 10 minutes.

Timed sensors (i.e. temp) can be user set to check against alert thresholds up to 256 times between heartbeats.
Triggered sensors (i.e. motion, door/window, etc.) record data as it happens, regardless of heartbeat.

SMS text and email notifications sent from the system when sensor thresholds are exceeded.
Unlimited data storage.
iMonnit API commands for integrating into 3rd party applications.
Product Specifications
Documentation
Applications