BKR Energy partners with Enbridge to help homeowners reduce emissions and save money with a Smart Hybrid HVAC System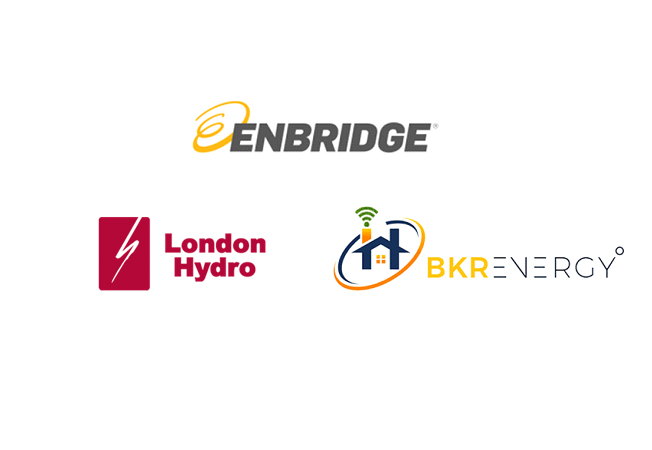 BKR Energy, in collaboration with London Hydro, is supporting Enbridge Gas as they roll out a program that provides up to $3,200 in incentives for homeowners to install Smart Hybrid HVAC Systems to help them reduce their greenhouse gas emissions and save money by automating the way they heat their homes.
A hybrid heating system combines a high-efficiency gas furnace with an electric air source heat pump. This system gives the homeowner the option to switch between natural gas and electricity based on rates for each energy supply, as well as other environmental and electrical factors.
BKR Energy's Smart fuel switching system is comprised of two components: a thermostat that can control both a traditional furnace along with a modern air-source heat pump (sold separately) and a cloud computing software that prompts changes to the way your space is heated based on external environmental and electrical factors.
The custom-built thermostat is capable of monitoring external factors and switching between electricity and natural gas to heat your home with a lower energy cost. It relies on our proprietary cloud-based technology and algorithms that calculate the most cost-efficient way to heat your space and reduce the overall emissions of Greenhouse Gases (GHGs) into the environment.
On top of this, we have developed a Smart Mobile App that allows each user to better understand the smart hybrid HVAC system's performance and monitor the hourly, daily, and monthly cost-savings.
Why Should You Switch to a Hybrid System?
A hybrid heating system is a great way to save the environment and your money, with smart controls that adjust as the outdoor temperature changes and hydro prices surge.
1. Worry-free Automation: Smart controls can automatically switch to electric heat, for instance if natural gas prices are too high at a given time, or to natural gas if there's a power outage.
2. Efficient Heating: By using the most cost-effective energy source available, you'll reduce your long-term energy costs.
3. Carbon Footprint Reduction: Hybrid systems reduce greenhouse gas (GHG) emissions by up to 60% and you'll be helping to take action on climate change.
Did you know that you can get up to $3,200 to switch to a Smart Hybrid HVAC System?
A hybrid system is a great way to save the environment and your money, with smart controls that adjust as the time of use (TOU) and outdoor temperature change. This one-time incentive is available for a limited time and in limited geographical areas. Please consult with your local energy provider or contact BKR Energy for a free consultation.
Please note, this program is ended at the moment, but I do not mind to showcase it to show our awareness.
Change the way you heat your home
BKR Energy offers the latest in sustainable heating technologies. Our hybrid heating system combines two or more heating sources to provide you with the most efficient and cost-effective way to heat your home.
The Benefits of a Hybrid Heating System in Your Home
BKR Energy's smart fuel switching controller is a perfect solution for those who want to save money and be environmentally friendly. It can provide a more comfortable, efficient, and cost-effective heating system for your home.
Hybrid systems combine two or more heat sources in order to heat your home more efficiently. They can use both gas and electric sources of energy. Hybrid heating systems are not only cost-effective but also environmentally friendly because they reduce the amount of gas that you burn in your furnace, which then reduce the amount of greenhouse gases that are released into the air. On top of this, BKR Energy has found a way to make your home's thermal comfort more affordable and accessible with our innovative Smart Thermostat. Hybrid heating systems, especially the ones used by BKR Energy, are more efficient than traditional methods, and they can save you more money on your utility bills.
If you're ready to make the switch, or if you have questions about our technology, please contact us today for your free consultation!