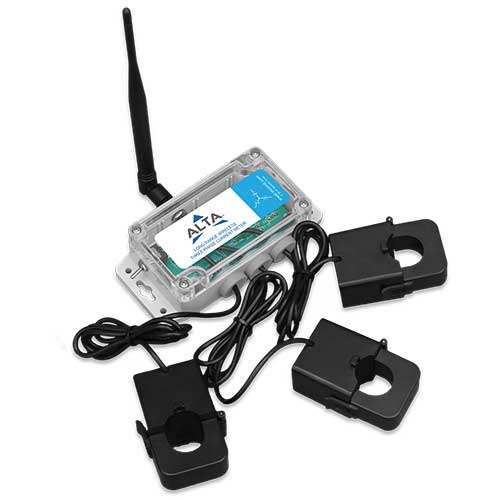 ALTA INDUSTRIAL WIRELESS THREE PHASE CURRENT METER - 150 AMP
Add to Cart Successfully! CHECK OUT to view cart, manage quantity and pay.
Product Description
Description
The ALTA Industrial Wireless Three Phase Current Meter (150 Amp) measures the RMS current of an alternating current (AC) system using 3 current transformers (CTs) that wrap around the wires of a three phase power system. The sensor reports Minimum RMS current, maximum RMS current, average RMS current, and duty cycle for each phase and the combined amp hours of all three phases to the iMonnit system. The iMonnit system is capable of generating watt hour or kilowatt hour readings as well based on a user specified RMS voltage.
Features
* Actual range may vary depending on environment. ** Battery life is determined by sensor reporting frequency and other variables.
In the Box
Wireless Sensor
Mounting Hardware
3V Industrial Battery (Pre-Installed)
SMA Antenna
Product Specifications
Documentation
Applications