15% Below the Base MSRP Until July 15th
BKR Energy is Bosch authorized dealer in Ontario
Save $1800 on top of the Enbridge's incentive
Call now and one of our sales representative will assist you.
Apply to receive this limited offer before it ends in: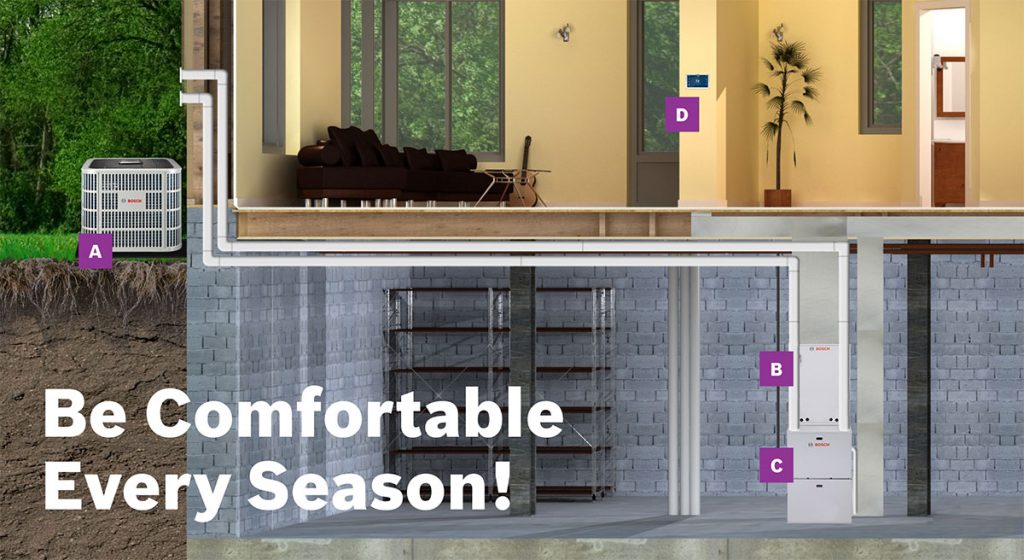 A.

Heat Pump

The robust Bosch Inverter Ducted Split Air Source Heat Pump system utilizes just the right amount of energy to achieve ultimate comfort and maximum efficiency while keeping sound levels to a minimum. Choose between the BOVA15, BOVB18, or BOV*20 for maximum efficiency.
B.

Cased Coil

The Inverter Ducted Split Cased Coil, when paired with a Bosch Furnace and IDS outdoor condensing section, delivers some of the best comfort levels and efficiency on the market today. Bosch offers a complete range of cased coils to fit your needs.
C.

Furnace

The BGH96 Gas Furnace offers up to 96% efficiency, a two-stage gas valve, and a multi-speed blower. This ENERGY STAR rated furnace offers premium comfort and energy savings, it is the perfect solution to efficiently heat your home.
D.

Wi-fi Thermostat

The BCC100 is a sleek, internet-connected thermostat that offers easy all-in-one control for your heating and cooling systems. It can be controlled using the Bosch Connected Control app and is compatible with most 24VAC HVAC equipment on the market.
Save $1800 on dual fuel package before it expires!
| | |
| --- | --- |
| Equipment-IDS 2.0 | Saving Per Unit  |
| ASHP-BOVA 3Ton |  $560 |
| ASHP-BOVA 5Ton |  $731 |
| | |
| Air Handeler-BVA 2Ton |  $302 |
| Air Handeler-BVA 3Ton |  $389 |
| Air Handeler-BVA 4Ton |  $403 |
| Air Handeler-BVA 5Ton |  $552 |
| | |
| Case Coil 2Ton |  $108 |
| Case Coil 3Ton |  $127 |
| Case Coil 4Ton |  $154 |
| Case Coil 5Ton |  $170 |
| | |
| Furnace 60k Btu/h |  $870 |
| Furnace 80k Btu/h |  $1,160 |
| Furnace 100k Btu/h |  $933 |
| Furnace 120k Btu/h |  $758 |
BKR Offer Advantages
BKR discounted rates offer $1500 up to $1800 more saving for the package installation compared to other manufacturers rates.
BKR's offer also includes a free smart thermostat capable of deploying smart fuel switching at the targeted locations.
BKR team will also educate you regarding the features and benefits of smart hybrid HVAC systems targeting a broad market in the future based on government's 2030 carbon emission reduction plan.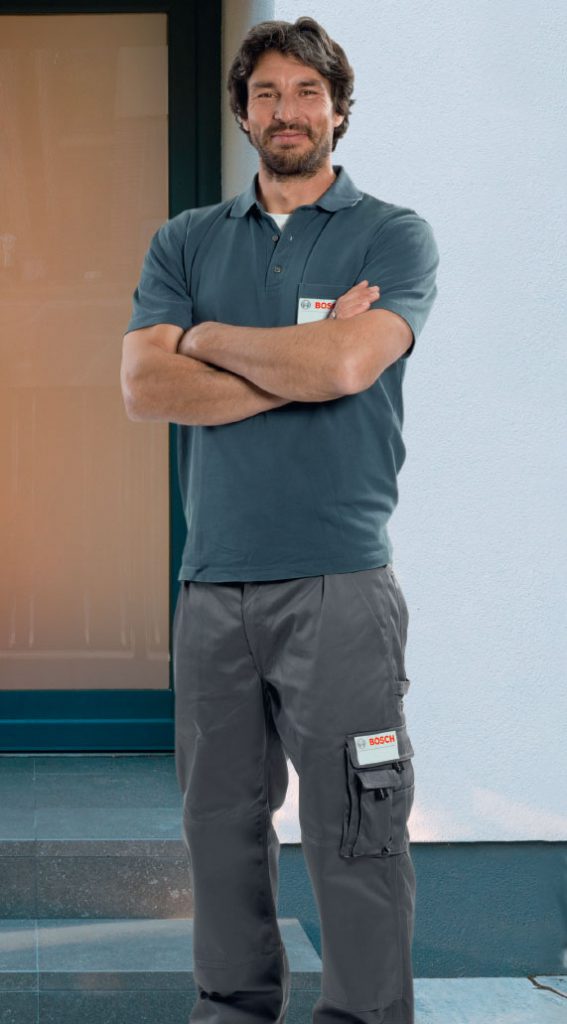 Bosch Group
The Bosch Group is a leading global supplier of technology and services in the areas of Automotive, Industrial Technology, Consumer Goods and Building Technology. 
The company was founded in Stuttgart, Germany, in 1886 and presently has more than 440 subsidiaries and is represented in over 150 countries. 
In the U.S., Canada and Mexico, the Bosch Group manufactures and markets automotive original equipment and aftermarket solutions, industrial drives and control technology, power tools, security and communication systems, packaging technology, thermotechnology, household appliances and software solutions. 
The Bosch Group's products and services are designed to improving quality of life by providing innovative and beneficial solutions.
In this way, the company offers technology worldwide that is "Invented for life." Additional information is available online at boschheatingandcooling.com and bosch.ca.Bosch Thermotechnology in North AmericaBosch Thermotechnology is a leading source of high quality water heating and comfort systems. 
The company offers gas tankless, electric whole house and point-of-use water heaters, Bosch and Buderus floor-standing and wall mounted boilers, Bosch and FHP geothermal, water-source and air-source systems as well as controls and accessories for all product lines. 
Bosch Thermotechnology is committed to being Simply Smart by offering products that work together as integrated systems that enhance quality of life in an ultra-efficient and environmentally friendly manner.
This plan includes $9.1 billion in new investments (to appear in the 2022 Federal Budget) designed to ensure that the country will reduce emissions across the entire economy to reach an emissions reduction target of 40 to 45% below 2005 levels by 2030, and thus put the country on a path to achieve net-zero emissions by 2050, a commitment made as part of the Paris Agreement.
Develop regulatory standards, and an incentive framework to support the transition off fossil- fuels for heating systems;
Develop an approach to require EnerGuide labeling of homes at the time of sale, and design a complementary Climate Adaptation Home Rating Program;
To encourage the move away from fossil fuels, the current carbon pricing plan remains in place. The price on carbon started at $20 per tonne of emissions in 2019 – and has been rising at $10 per year to reach $50 in 2022. Starting in 2023, the price will start rising by $15 per year until it reaches $170 per tonne in 2030.
The government will continue to encourage electrifying more activities—including heating and cooling buildings—and thus acknowledges the country needs to both increase the supply of electricity and ensure that all electricity generation has net-zero emissions.
The Plan includes developing a Clean Electricity Standard (CES) to support a net-zero electricity grid by 2035
The Government of Canada will work with provinces and utilities to establish a Pan-Canadian Grid Council to promote clean electricity infrastructure investments.
Expanded and accelerated tax deductions for businesses to invest in clean energy equipment including air-source heat pumps and supports for air-source heat pump manufacturers.